Story highligts
• Seventy-eight people spending night in shelters, official says
• KTHV: Four suspected looters arrested; curfew in effect
• Police: 12 people hurt in Arkansas
• Possible tornadoes in Mississippi, Louisiana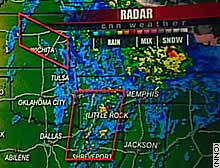 The powerful winds were part of a line of storms that stretched across Arkansas, Tennessee and elsewhere.
DUMAS, Arkansas (CNN) -- A possible tornado shredded several businesses and homes in a small Arkansas town Saturday, injuring about a dozen people, some of them seriously, police told a local TV station.
Seventy-eight people in Dumas were spending the night in shelters set up after the storm, said Tina Owens of Arkansas Emergency Management. A curfew was in effect until 7 a.m. Sunday.
Residents examine rubble from a home in Union County, north of Strong, Arkansas, on Saturday.
"Right now were just trying to assess the damage and take care of the citizens' needs for this evening," she said.
"We'll definitely look at the recovery efforts, but right now our immediate effect is to deal with those citizens with injuries and making sure we've got those people taken care of tonight."
Police have arrested four people suspected of looting, KTHV reported.
The storm slammed into one of the town's main thoroughfares, destroying most of the businesses along U.S. 65, including a Fred's department store, where employee Bobbie Thomas was working.
"We all got on the floor," Thomas said. "All the debris was falling on us ... and I said, 'Lord, all I want you to do is save us today, because it's in your hands.'"
Neighbors salvage Joe Mangum's gun collection from his home near Urbana, Arkansas, Saturday
Fred's was among several buildings destroyed by the storm, the station reported. The National Weather Service reported that parts of cars were hanging in trees in the storm zone.
There were no reports of fatalities, but about a dozen people were reported injured, some seriously, Arkansas State Police Cpl. Ray Siggers told KTHV.
James Robinson of Winchester told The Associated Press he saw a black cloud approaching and pulled into a McDonald's parking lot.
The storm damaged several buildings in Dumas, Arkansas, on Saturday, a local TV station reported.
"It sounded just like a locomotive train, not real fast," Robinson told AP. He said he helped a woman into the restaurant, and then hid in the walk-in freezer, according to AP.
Damage from possible tornadoes was also reported in Mississippi and Louisiana.
The National Weather Service said damage that occurred early Saturday in Bossier City, Louisiana, was consistent with an EF-1 type tornado under the new Enhanced Fujita (EF) scale for rating twister damage.
Wind speeds were estimated between 90 and 100 mph.
Several Dumas restaurants, a Mad Butcher grocery store and some nearby homes were leveled, KTHV reported. Video from the scene showed several buildings rendered nearly unrecognizable. A sign for a street located a mile away was lying in the grocery store parking lot.
The Salvation Army, the Red Cross and a local Mennonite chapter was helping residents whose homes were damaged.
The storm also overturned a tractor-trailer in a store parking lot and destroyed an electricity substation, which knocked out power to the area, AP reported.
The National Weather Service said it had received a report that parts of cars were hanging in trees north of Dumas along U.S. 65. The possible tornado struck just before 3 p.m. CT (4 p.m. ET).
Police said they were making a door-to-door search for victims, according to The Associated Press. Emergency crews called for ambulances from a nearby county, AP reported.
Dumas and the surrounding region is located in what experts call "tornado alley," a zone across the nation where twisters often form.
Damage from a possible tornado was also reported in Tichnor, in southern Arkansas County, just northwest of Dumas. Residents reported a tornado passed near the Tichnor post office, the National Weather Service said.
Severe storms with tornado threats were moving at least 60 mph, and stretched from northern Louisiana to Arkansas. The line of storms was heading into northwest Mississippi and toward southwest Tennessee.
Staff from the Arkansas Department of Emergency were en route to Desha County to assess damage and injuries, spokeswoman Tina Owens told CNN.
"Hopefully it's hit in an area where not too many people are affected," she said. Owens said the agency had only received reports of minor damage so far in the mostly rural area.
In Texas, dozens of grass fires were fueled by winds reaching 60 mph, AP reported. Flames destroyed three homes near Midland, and in Fort Hood fires prompted evacuations, authorities told AP. No injuries were reported.
Copyright 2007 CNN.
Every cloud has a silver lining
Storyhighlights
• NEW: Door-to-door search for tornado victims
• NEW: 43 houses, 50 mobile homes destroyed, damaged
• Two children critically injured when trapped inside home
• 6 p.m. to 7 a.m. curfew in place Sunday night

DUMAS, Arkansas (AP) -- Dozens of homes and businesses looked like they were shredded by "high explosives," Lt. Gov. Bill Halter said Sunday as he surveyed the damage a day after a powerful storm injured 40 people.

State police said all residents were accounted following a door-to-door search of Dumas, where a tornado cut a swath through town and injured 27 people on Saturday.

Two children, ages 5 and 7, were critically injured when the storm flipped their mobile home and trapped them inside, Desha County Sheriff Jim Snyder said.

It took two hours for rescuers to get them out, he said.

Kevin Hill, who pulled furniture from the rubble with his family, said they were out running an errand -- picking up a saw blade in Pine Bluff -- when the storm ripped apart their brick-and-mortar home.

"Thank God for a five-dollar saw blade or we would have all been inside the house," said Hill, 42.

The storms in Arkansas were part of a massive system that also caused blizzard conditions in the Midwest. Snyder said weather forecasters told him the storm packed winds estimated between 158 and 207 mph.

Damage was reported along a five-mile-long, half-mile-wide swath south and east of Dumas, which is about 90 miles southeast of Little Rock.

In all, 43 houses and 50 mobile homes were destroyed or damaged around Dumas; and nine had major damage, the Department of Emergency Management said.

"Some of these homes looked like they had high explosives in them," Halter said. "All that's left is the foundation."

A general merchandise store and a pet-food factory were among the 25 businesses leveled in the town of 5,300 people. Nine other businesses had major damage, the state Department of Emergency Management said.

"We feel like we've probably got 800 unemployed today as a result," Snyder said.

Halter, acting governor while Gov. Mike Beebe is out of state, said the county would be declared a disaster area. He estimated damage in the millions of dollars. Beebe planned to return early from a National Governors Association conference in Washington to survey the damage Monday, a spokesperson said.

State Police Director Steve Dozier said a 6 p.m. to 7 a.m. curfew would be in place again Sunday night to prevent looting. About 140 members of the Arkansas National Guard policed the area and helped with recovery work.

At least 78 people sought refuge in shelters where workers served meals and tended to health concerns Sunday.

The sheriff said it may be three to five days before power could be restored. The storms also polluted the town's drinking water, which residents were told to boil.

Copyright 2007 The Associated Press.
Every cloud has a silver lining