Einddoel: astronauten naar Mars sturen in 2030 en de jaren erna!
" We will go to the Moon in the next decade in a way we have never gone before. We will go with innovative new technologies and systems to explore more locations across the surface than was ever thought possible. This time, when we go to the Moon, we will stay. And then we will use what we learn on the Moon to take the next giant leap - sending astronauts to Mars. "
—NASA Administrator Jim Bridenstine

Why are we going?
NASA's science, technology and human exploration activities touch every aspect of our lives here on Earth and we want to extend our presence to the farthest corners of the universe. In doing so, we will maintain America's leadership in space.

Inspiration for generations to come
NASA's Apollo Program was a stunning demonstration of the United States' strength of will and its economic, political and technological power – a feat that inspired generations of young people. It was fuel to the fire of the American consciousness that brought on a revolution, not only in science and technology, but also in our passion for exploration and discovery.
Just as Apollo inspired a generation 50 years ago, NASA continues to inspire with feats of science and exploration today. If we bring together the capabilities and resources of our international and commercial partners to take us forward to the Moon and on to Mars, we will demonstrate to people around the world the power of a unified purpose. It will serve as an unparalleled and inspiring example of what humanity can do when it comes together to achieve a common goal for the common good.

More missions, more science
The Moon is a treasure chest of science. The lunar samples returned during the Apollo Program dramatically changed our view of the solar system. Yet, we are just scratching the surface of knowledge about the Moon. We believe the poles of the Moon hold millions of tons of water ice. That ice represents power. It represents fuel. It represents science. The farther humans venture into space, the more important it becomes to manufacture materials and products with local resources. We know the Moon can tell us more about our own planet, and even our own sun. There is so much more to learn – knowledge we can acquire with a sustained human and robotic presence on the Moon.
Exploration for all humanity
Exploration is in the DNA of our species – the desire to discover and inhabit distant worlds, whether across Earthly oceans or vast regions of space. It also is critical to the continuation of our species. Humanity must build a path to an Earth-independent existence.
Exploration of the Moon and Mars is intertwined. Our sustainable Moon to Mars exploration approach is reusable and repeatable. Over the next decade, we will build an open exploration architecture with as many capabilities that can be replicated as possible for missions to Mars. The Moon is a testbed for Mars. It provides an opportunity to demonstrate new technologies that could help build self-sustaining outposts off Earth.

We're Going Forward to the Moon to Stay
More than 45 years since we last set foot on the Moon, our president has renewed the nation's focus on expanding humanity's presence beyond Earth. Space Policy Directive-1 provides the direction for NASA to organize more effectively government, commercial and international efforts to develop a permanent presence off Earth that generates new markets and opportunities, both scientific and economic.
We are going quickly and sustainably with a reusable architecture.
We are going with commercial and international partners to explore faster and explore more together.
We will bring new knowledge and opportunities.
We will use the resources of the Moon to enable farther exploration.
We will prove out the technologies that will take us to Mars and beyond.
How are we getting there?
ORION SPACECRAFT ©NASA
NASA is building a spacecraft to take astronauts to deep space that will usher in a new era of space exploration.
Orion will take us farther than we've gone before, and dock with the Gateway in orbit around the Moon. The spacecraft will carry up to four crew members and is designed to support astronauts traveling hundreds of thousands of miles from home, where getting back to Earth takes days rather than hours.
Both distance and duration demand Orion to have systems that can reliably operate far from home, be capable of keeping astronauts alive in case of emergencies and still be light enough that a rocket can launch it.
A Series of Challenging Missions
NASA will launch Orion on the agency's powerful rocket, the Space Launch System, from a modernized spaceport at Kennedy Space Center in Florida. On the first integrated mission, known as Exploration Mission-1, an uncrewed Orion will venture thousands of miles beyond the Moon over the course of about three weeks. A series of increasingly challenging missions with crew will follow including a test flight around the Moon before operational missions to the Gateway.
SPACE LAUNCH SYSTEM
©NASA
NASA's Space Launch System, or SLS, is a powerful, advanced rocket for a new era of human exploration beyond Earth's orbit. With unprecedented power capabilities, SLS will launch astronauts aboard the agency's Orion spacecraft on missions to explore deep space.
SLS is designed to safely send humans to deep space and can support a variety of complex missions. It will also open new possibilities for payloads, including robotic scientific missions to places like Mars, Saturn and Jupiter.
Offering more payload mass, volume capability and energy to speed missions through space than any other rocket.
SLS is the only rocket that can send Orion, astronauts and large cargo to the Moon on a single mission.
SLS is America's rocket with more than 1,000 companies from across the U.S. and every NASA center supporting its development.
LUNAR OUTPOST
The Gateway
©NASA
NASA and its partners are designing and developing a small spaceship in orbit around the Moon for astronauts, science and technology demonstrations known as the Gateway. Located about 250,000 miles from Earth, the Gateway will enable access to the entire surface of the Moon and provide new opportunities in deep space for exploration.

Sustainable Exploration
This new era of sustainable human exploration requires advanced technologies that are efficient, affordable and reliable. Solar electric propulsion offers these benefits and is a key technology for the Gateway. The first element to launch to space will be the power and propulsion element in 2022. This alternative propulsion system will enrich exploration at the Moon by enabling orbit transfers and reusable space tugs to and from the lunar surface.
ASTRONAUTS ON THE MOON
A New Approach
Beginning with a series of small commercial delivery missions, we will use new tools and technology demonstrations to conduct more science across the surface of the Moon, and exploit the resources of our nearest neighbor ahead of a human return.
With some of humanity's most advanced technologies, future astronauts will stay longer on the surface of the Moon, explore more of the Moon than ever imagined, and build a sustainable presence.
A new class of power systems will support future human outposts.
Autonomous rovers and robots will move around the surface.
We will print, manufacture and build as much as we can with materials found on the Moon.

Surface Missions
Working with American companies and leveraging the Gateway, NASA has proposed designing and developing a new reusable human lunar landing system. These elements include descent, transfer, refueling, ascent and surface suit capabilities. NASA is targeting launch of the first demonstration mission in 2024 to test the descent capability on the lunar surface. A second demonstration mission in 2026 will follow, testing the entire new system on the surface before a test mission with crew.
By 2028, NASA will be ready to send astronauts from the Gateway to the surface of the Moon. On this first mission, crew may stay on the lunar surface for up to seven days – longer than any other human mission in history.

When are we going:
2017: Our mission
Space Policy Directive-1 calls for NASA to "lead an innovative and sustainable program of exploration with commercial and international partners to enable human expansion across the solar system and to bring back to Earth new knowledge and opportunities." With this direction from the president, NASA will put astronauts on the Moon in the next decade, and lay the foundation for human exploration of Mars.
2019: Commercial moon deliveries
Through Commercial Lunar Payload Services, or CLPS, NASA is partnering with nine American companies to send new science instruments and technologies to the Moon ahead of a human return. NASA plans to issue its first task order for payload delivery services to the lunar surface this spring, and the first delivery could happen by late 2019 if commercial landers are ready. NASA will order more deliveries to the Moon as needed over the next decade.
2020: Exploration mission 1
NASA is targeting 2020 for the launch of its powerful Space Launch System rocket and Orion spacecraft together for the first time from a modernized Kennedy Space Center in Florida. This uncrewed flight test, known as Exploration Mission-1, will demonstrate our capability to send crew spaceship to lunar orbit ahead of a return to the surface of the Moon. After launch, SLS will also deploy a number of CubeSats to perform experiments and technology demonstrations.
2022: Exploration mission 2
NASA is targeting 2022 to test its powerful Space Launch System with astronauts aboard the Orion spacecraft. Launching again from Kennedy Space Center in Florida, Exploration Mission-2 will fly a different path than the first test flight, and will take a crew around the Moon for the first time in fifty years. This first mission with astronauts will mark a significant step forward for regular missions with crew to lunar orbit, and ultimately on the surface of the Moon and beyond.
2022: First gateway element
The power and propulsion element for the Gateway will launch on a private rocket by December 2022, and provide a one-year demonstration in space. Using advanced solar electric propulsion, this first module of the Gateway will provide power, propulsion and communications for the entire spaceship as its assembled and operated.
2023: Science and exploration rover
NASA is working with commercial industry to develop mobility platforms, such as rovers, to carry science instruments and look for and sample water-ice (volatile) deposits. Landing a rover in 2023 on the Moon will be the beginning of better understanding the nature of lunar volatiles and could lead to new scientific discoveries. It will also provide us knowledge as to how we can use the water-ice for fuel, oxygen and drinking water for human exploration missions to lunar surface.
2024: Exploration mission 3
The third mission of the Space Launch System rocket and Orion spacecraft, Exploration Mission-3, is targeted for launch in 2024 and will carry the first crew aboard Orion to visit the Gateway.
2024: Testing decent capabilities
Working with American companies, NASA will build a new human lunar lander system. Launching on a private rocket, the agency will test the descent element on the surface of the Moon. This will be the first of two tests of systems built for humans before sending crew to the surface a few years later.
2026: Uncrewed Lunar surface demo
NASA's proposed human lunar landing system consists of a descent element, an ascent element, a surface spacesuit, a transfer vehicle and refueling capabilities. The agency will test this whole system together on an uncrewed mission to the surface of the Moon.
2028: astronauts on the Moon
NASA is going back to the Moon to stay, in a measured, sustainable fashion. By 2028, we'll send crew from the Gateway to the surface of the Moon in our human lunar lander system. Crew will conduct a moonwalk and spend up to seven days on the surface – longer than any mission in history.
2030's Astronauts to Mars
NASA is keeping its eyes on human exploration of Mars. Our sustainable Moon to Mars exploration approach is reusable and repeatable – we will build an open exploration architecture in lunar orbit with as many capabilities that can be replicated as possible for missions to the Red Planet.
Bron:
nasa.gov
Five Teams Win NASA DALI Awards to Advance Future Lunar Missions
When NASA solicits future investigations of the Moon five teams involving scientists and engineers at the NASA Goddard Spaceflight Center in Greenbelt, Maryland, will be ready.
The agency's Development and Advancement of Lunar Instrumentation, or DALI, program recently awarded 10 teams funding to mature spacecraft-based instruments for use in future lander missions, including those offered by commercial ventures through the Commercial Lunar Payload Services (CLPS) contract. These instruments are expected to reach a high level of technology readiness by the time funding ends in three years.
This artist's rendition shows the LEMS concept, an environmental monitoring station on the Moon.
Credits: NASA
Of the 10 awards, half went to teams involving Goddard experts, who are either serving as principal investigators or co-investigators — a success rate that didn't escape many. "The fact that our scientists and engineers won five of those awards bodes well and assures that Goddard will have a role to play in NASA's new era of exploration," said Brook Lakew, associate director for planning and R&D for Goddard's Solar System Exploration Division. "Our teams certainly made an admirable showing in this round of the DALI competition."
Submillimeter Solar Observation Lunar Volatiles Experiment (SSOLVE)
Since 2008, when scientists first discovered water in Moon's thin atmosphere and later at its poles, Earth's only orbiting natural orb has become a decidedly more interesting place. SSOLVE, led by University of Maryland researcher Timothy Livengood, with significant participation from Goddard engineers and scientists, is being designed to investigate the origin of this water.
With its two spectrometers tuned to submillimeter and terahertz wavelengths ideal for detecting water, SSOLVE would be deployed on a lander, where it would use the Sun as a light source to illuminate the presence of water in the Moon's tenuous atmosphere, specifically measuring the abundances and the chemical state of water, hydroxyl, and heavy water and how these levels vary over time.
The goal is to answer questions about its presence both in the atmosphere and at the poles, determining if solar wind or meteoroids deliver the water or if it's created indigenously through different chemical processes involving the Sun.
Characterization of Regolith and Trace Economic Resources (CRATER)
CRATER Principal Investigator Ricardo Arevalo, a former Goddard scientist and now a professor at the University of Maryland, is working with a global team, including experts at Goddard and various laboratories in France, to develop an advanced laser-based mass spectrometer aimed at redefining scientists' understanding of the Moon's composition.
Conceived as a lander-payload instrument, CRATER would produce high-resolution spectra that would provide insights into how the Moon formed. It would also catalog non-native organic compounds and prospect for valuable metals, such as titanium, iron, chromium, and copper.
Bulk Elemental Composition Analyzer (BECA)
BECA is a lander instrument capable of determining the bulk elemental composition of material found on the Moon's surface as well as that located about eight inches (20 centimeters) beneath it.
Conceived by Goddard Principal Investigator Ann Parsons, BECA would pulse neutrons into the regolith. When these neutrons interacted with an element's nucleus, the nucleus would become excited and emit gamma rays, which a spectrometer would detect to reveal the presence of elements, including hydrogen, oxygen, aluminum, silicon, titanium, and iron, among many others.
The beauty of BECA is that it does its sleuthing without moving parts and does not physically interact with the lunar terrain when gathering measurements. Furthermore, low-energy neutrons are also emitted by the lunar surface. Measurements by BECA's neutron detectors would allow for more sensitive and deeper measurements of hydrogen — an important ingredient in water —than from gamma rays alone.
Potassium-Argon Laser Experiment (KArLE)
Determining the age of lunar rocks is the primary purpose of KArLE, a proposed lander or rover instrument conceived by Goddard scientist Barbara Cohen.
Knowing the precise ages afforded through potassium-argon dating — the method of determining a rock's time of origin by measuring the ratio of radioactive potassium to its daughter product, argon — would help scientists understand the Moon's history, its formation, the effects of bombardment, and by extension, the history of the solar system. Currently, radiometric dating can only be done on samples returned to Earth-based laboratories.
"A capability such as KArLE is crucial because we can't possibly bring back samples from everywhere on the Moon," said Cohen, whose team includes several Goddard engineers, the University of Maryland, Los Alamos National Laboratory, and Honeybee Robotics.
Lunar Environment Monitoring Station (LEMS)
LEMS is a compact, long-duration surface station that would monitor the exosphere, the thin atmosphere surrounding the Moon. Previous missions have identified short-term changes in the exosphere, but NASA has never landed an instrument capable of longer-term research. It would also listen to the Moon's seismic activities to better understand the structure of the Moon's interior.
Like many of the other DALI proposals, it, too, takes advantage of heritage instruments. It employs CubeSat and SmallSat subsystems that would generate and distribute power to the station's neutral mass spectrometer, which is identical in design to the one flown on NASA's Lunar Atmosphere Dust and Environment Explorer and the Mars Atmosphere and Volatile Evolution Mission, said Co-Investigator Charles Malespin, a Goddard scientist assisting in the effort led by Mehdi Benna, a researcher at the University of Maryland-Baltimore County.
For more Goddard technology news, go to
https://www.nasa.gov/sites/default/files/atoms/files/winter_2019_final_web_version.pdf
By Lori Keesey
NASA's Goddard Spaceflight Center
Principal Investigator Ricardo Arevalo (right), Adrian Southard (center), and Cynthia Gundersen (standing next to Arevalo) are members of the international CRATER development team, which met in France earlier in 2018 to discuss the path forward for advancing the CosmOrbitrap mass analyzer, a key component of the CRATER instrument targeting the in-situ exploration of the lunar surface. Others in the room are associated with the French team.
Credits: C. Briois
Goddard scientist Ann Parsons is developing a new instrument to determine the bulk elemental composition of the material found on the Moon's surface as well as that 20 centimeters beneath it. She is pictured with a commercial version of the Pulsed Neutron Generator (PNG) that she will be maturing for use on her BECA instrument, which will be tested at a granite formation located at Goddard's Geophysical and Astronomical Observatory.
Credits: NASA/W. Hrybyk
KArLE is an instrument now being developed by Goddard scientist Barbara Cohen. It will determine the ages of lunar rocks, information that will help scientists understand the Moon's history, its formation, the effects of bombardment, and by extension, the history of the solar system.
Credits: NASA/W. Hrybyk
Goddard engineer Berhanu Bulcha is developing with internal R&D funds a critical technology, a terahertz mixer, for one of the submillimeter spectrometers being developed for the conceptual SSOLVE mission, which would investigate water on the Moon. NASA recently funded SSOLVE under a technology-development program.
Credits: NASA/W. Hrybyk
Bron:
nasa.gov
What is Artemis?
NASA is committed to landing American astronauts, including the first woman and the next man, on the Moon by 2024. Through the agency's Artemis lunar exploration program, we will use innovative new technologies and systems to explore more of the Moon than ever before. We will collaborate with our commercial and international partners to establish sustainable missions by 2028. And then we will use what we learn on and around the Moon to take the next giant leap – sending astronauts to Mars.
Why Go to the Moon?
Artist's concept of the Space Launch System rocket and Orion capsule prepared for launch.
Credits: NASA
With the Artemis program we will:
Demonstrate new technologies, capabilities, and business approaches needed for future exploration including Mars
Establish American leadership and a strategic presence on the Moon while expanding our U.S. global economic impact
Broaden our commercial and international partnerships
Inspire a new generation and encourage careers in STEM
How Do We Get There?
NASA's powerful new rocket, the Space Launch System (SLS), will send astronauts aboard the Orionspacecraft a quarter million miles from Earth to lunar orbit. Astronauts will dock Orion at the Gatewaywhere they will live and work around the Moon. The crew will take expeditions from the Gateway to the surface of the Moon in a new human landing system before returning to the orbital outpost. Crew will ultimately return to Earth aboard Orion.
Gateway 2024 Artist Concept
Credits: NASA
When Will We Get There?
Ahead of the human return, we will send a suite of science instruments and technology demonstrations to the lunar surface through commercial Moon deliveries.
The agency will fly two missions around the Moon to test its deep space exploration systems. NASA is working toward launching Artemis 1 in 2020, an uncrewed flight to test the SLS and Orion spacecraft together. Artemis 2, the first SLS and Orion flight with crew, is targeted for launch in 2022. NASA will land astronauts on the Moon by 2024 on the Artemis 3 mission and about once a year thereafter.
What Will We Do There?
While Mars remains our horizon goal, we have set our sights first on exploring the entire surface of the Moon with human and robotic explorers. We will send astronauts to new locations, starting with the lunar South Pole. At the Moon, we will:
Find and use water and other critical resources needed for long-term exploration
Investigate the Moon's mysteries and learn more about our home planet and the universe
Learn how to live and operate on the surface of another celestial body where astronauts are just three days from home
Prove the technologies we need before sending astronauts on missions to Mars, which can take up to three years roundtrip
Going forward to the Moon will be the shining moment of our generation. This moment will belong to you – the Artemis generation. Are you ready?
We are sending astronauts to the Moon by 2024. And this is how. Special thanks to William Shatner for lending his voice to this project.
Credits: NASAWhere Did The Name Artemis Come From?
Artemis was the twin sister of Apollo and goddess of the Moon in Greek mythology. Now, she personifies our path to the Moon as the name of NASA's program to return astronauts to the lunar surface by 2024, including the first woman and the next man. When they land, our American astronauts will step foot where no human has ever been before: the Moon's South Pole.
Bron:
nasa.gov
Woonplaats: Stiens
Berichten: 3266
Lid sinds: 19 mei. 2014
NASA zet in op twaalf maanmissies met opvolger Apollo-programma
De Amerikaanse ruimtevaartorganisatie NASA maakte afgelopen week bekend dat het genoeg ruimtecapsules gaat kopen om twaalf missies uit te kunnen voeren in het nieuwe maanvluchtenprogramma Artemis, de opvolger van de Apollo-missies. Wat houdt dit nieuwe maanprogramma precies in?
NASA kreeg begin dit jaar de opdracht van de Amerikaanse president Donald Trump om in 2024 opnieuw astronauten op de maan te zetten, voor het eerst sinds de zeventiende en laatste Apollo-missie in 1972. De ruimtevaartorganisatie sloot afgelopen week een contract met het Amerikaanse lucht- en ruimtevaartbedrijf Northrop Grumman voor minimaal zes en maximaal twaalf Orion-capsules.
Met deze capsules mikt NASA op twaalf missies in het Artemis-programma, dat de Amerikaanse terugkeer naar de maan omvat. Met dit programma wil NASA ook de eerste vrouw voet laten zetten op het maanoppervlak.
De NASA-astronauten moeten naar de zuidpool van de maan, waar nog geen mens is geweest. Wetenschappers hebben aanwijzingen dat hier bevroren water is, wat ruimtereizigers wellicht kunnen gebruiken om lokaal drinkwater of waterstof voor brandstof te maken. De naam Artemis komt uit de Griekse mythologie en is een verwijzing naar het Apollo-programma van de jaren zestig. Zonnegod Apollo was de tweelingbroer van de maangodin Artemis.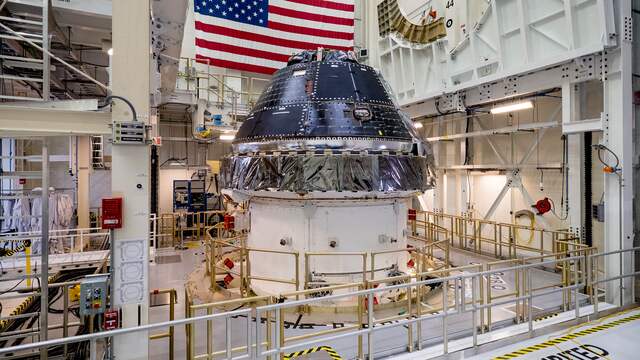 Orion-capsule in de productiehal. Bron afbeelding: NASA
Astronauten naar maan met Orion
Centraal in de Artemis-missies staat het Orion-ruimtevaartuig. Dit voertuig is gebouwd om naar de maan te gaan, maar zou uiteindelijk ook verder moeten vliegen naar Mars.
Orion maakte een eerste onbemande testvlucht in 2014. De eerstvolgende vlucht is in 2020 en dat wordt een onbemande reis om de maan. Deze test is meteen de eerste missie van het Artemis-programma en zal Artemis I heten. Orion moet dan gelanceerd worden op NASA's nieuwe raket, de Space Launch System (SLS).
De eerste bemande vlucht van Orion, Artemis II, vindt twee jaar later plaats in 2022. Artemis III in 2024 wordt de eerste maanlanding van het programma en daarna moeten jaarlijks maanlandingen volgen. In tegenstelling tot de Apollo-missies is het niet de bedoeling om een capsule direct vanaf de aarde naar de maan te sturen. NASA werkt onder meer met het Europese ruimtevaartagentschap ESA en de Japanse ruimtevaartorganisatie JAXA aan de Lunar Gateway, een ruimtestation dat om de maan draait.
Orion moet aanmeren bij dit station, waarna astronauten de Gateway als tussenstop gebruiken. Vanuit het station kunnen de ruimtereizigers overstappen op een lander, die hen naar het maanoppervlak en terug brengt.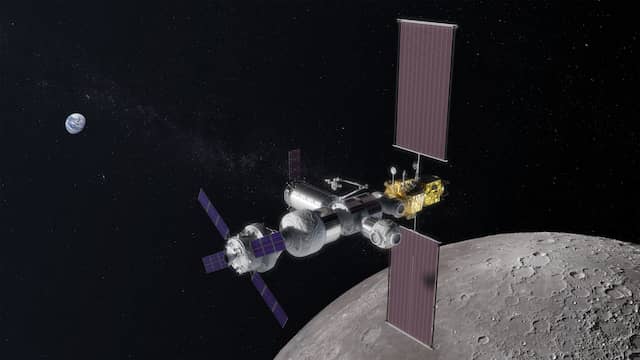 Artiestenimpressie van de Lunar Gateway. Bron afbeelding: NASA
Nog onduidelijk of NASA 2024 haalt
Of NASA de deadline in 2024 gaat halen is nog onduidelijk. Dat komt doordat veel beoogde technologie voor het Artemis-programma nog niet af is. Ten eerste is de Lunar Gateway nog een concept. Er zijn samenwerkingscontracten gesloten en ontwerpen voor modules zijn voorgesteld, maar er is nog niets gebouwd.
Ook de beoogde maanlander is nog conceptueel. Northrop Grumman heeft al onderzoek gedaan voor een mogelijke lander en luchtvaartbedrijf Lockheed Martin heeft een concept klaarliggen.
Ten slotte wordt de beoogde SLS-raket telkens uitgesteld, bijvoorbeeld door technische problemen tijdens de bouw. SLS had al in 2016 moeten vliegen, maar nu staat de eerste testvlucht gepland voor 2020. Mogelijk is de raket niet op tijd klaar voor Artemis I. Dan zou Orion op een andere raket moeten worden geplaatst, zoals de Falcon Heavy van het commerciële bedrijf SpaceX.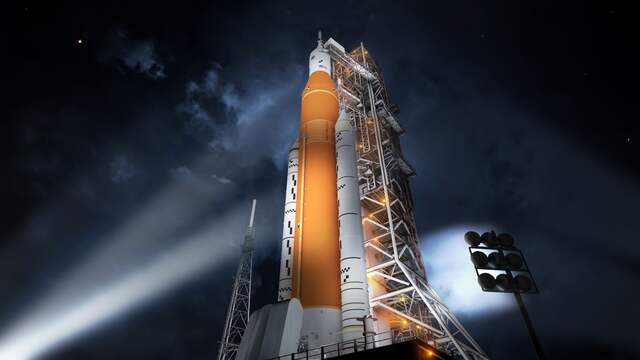 Artiestenimpressie van de SLS-raket. Bron afbeelding: NASABron artikel: NU.nl
#KeepOnSmiling
what a joke!

NASA terug naar de maan? lol

Ze zijn er nog nooit geweest! Althans niet met bemande voertuigen.
Een klein beetje onderzoek laat al zien dat het echt allemaal klinkklare onzin is,
dat ze mensen op de maan gezet hebben.

Ja, ik begrijp ook wel dat als je dat hoort dat het heel bizar klinkt maar dat is toch echt waar je
op uitkomt als je serieus de zaken gaat bekijken.

En aan de NASA kan je het niet vragen, want
NASA staat voor "Never A Straight Answer"

en o ja, NASA is een militaire organisatie en opgericht door Nazi's.

Dus nee, vertrouwen kan je die gekken daar niet.
Woonplaats: Utrecht
Berichten: 64
Lid sinds: 26 jun. 2011
Citaat van Mumra, vrijdag 3 januari 2020, 23:22 uur
Of je nu wel of niet 'gelooft' dat we op de maan zijn geweest: ik kan iedereen de docu 'Dark Side of the Moon' (2002) aanraden. Maar kijk hem wel af tot en met het einde
.

Ten eerste met 'geloof' heeft het helemaal niks te maken, als men er in duikt is het klip en klaar dat ze er absoluut niet geweest zijn
(zoals verteld.)
Verder over wat je aanraadt: Dark Side of the Moon is a French
mockumentary
, maar goed ik geef toe ik heb hem nog niet gezien, dus zal er verder
(nog) niet over oordelen
| Gewijzigd: 4 januari 2020, 07:44 uur, door Pindar